IpTL Model 70V Series Virtual Secure Remote Access Appliance for VMware, Amazon AWS, Hyper-V, Microsoft Azure
The IpTL 70v Series eGate™ Virtual Remote Access Appliances are supported in these environments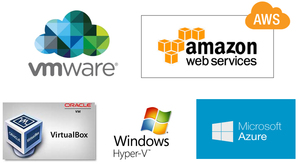 Hi-Performance Virtualized Hosted & Cloud Network Application Connectivity
The IpTL 70V eGate Secure Remote Access Appliance and Server is a virtualized connectivity solution for hosted and cloud deployments providing transparent, secure, and controlled access to applications and data.
Built on IpTL's product-based converged infrastructure technologies the Model 70V Series  provides the same network connectivity, application transparency, and tunnel security without the individual hardware overhead, maintenance, and costs of a separate hardware installation.
When to Use
Virtualized Server or Cloud environments such VMware ESXi™, Amazon AWS™, Microsoft Hyper-V™, Microsoft Azure™, Oracle VirtualBox™
Hybrid-Cloud & Virtual Private Cloud Remote Access
Virtualized application integration with walled garden controlled application access
Seamless private cloud to public cloud integration
Expandable Hi Capacity 1-1000 connections for IoT & M2M Connectivity, Security

Hybrid Cloud Application Access to Virtual Private Compute

Hosted/Cloud aggregation of IP Camera Remote Access VPN and Security

Datacenter site-2-site links and protection

Large compute data replication cloud connectivity
Connect from 1 to 1,000 remote IpTL links to your Datacenter or Cloud Applications and get security and connectivity without expensive MPLS links or clumsy VPNs

Not a "web app" and that gives you control over the access to your applications and data delivery true security

Extremely small virutal foot print (e.g. 60meg Disk, 1gig mem, basic compute) so you can have efficient use of your resources and lowering costs

Concentrates your multisite remote IoT or M2M devices to your Cloud applications seamlessly with security and control end-to-end so that your data flows between your devices and applications

Supports remote Link Aggregation from your physical remotes so you can get the reliability 

and throughput your applications demand 
Remote IP Camera and Access Control Integration to Hosted Hybrid Cloud Applications
As more applications are lifted-and-shifted into cloud compute environments they still need to communicate with remote security appliances.  IpTL physical & virtual appliances can provide secure and seamless integration between fielded remote IP cameras & Access Control terminals and centralized security applications.
Creating a secure and limited access tunnel as well as enabling the connectivity of "network challenged devices", IpTL gives you the end-to-end functionality while keeping the good data in and the bad guys out!
Hosted VoIP PBX Switching – Hybrid Cloud Access
Hosted VoIP enables scale but an SBC doesn't solve the complete picture as it cares mainly about security and forgets the needs of connectivity…much less additional costs.  Only IpTL can provide security, connectivity, & integration while reducing costs.
Only IpTL can reliably connect remote VoIP and UC devices to the cloud switch.  Along with the secure tunnel, IpTL's redundancy and BlackNoise™ ensure your VoIP/UC can connect without blockages.