IP Camera CCTV Connections & Connectivity
AppliedAppplications™ Real Solutions for Real Applications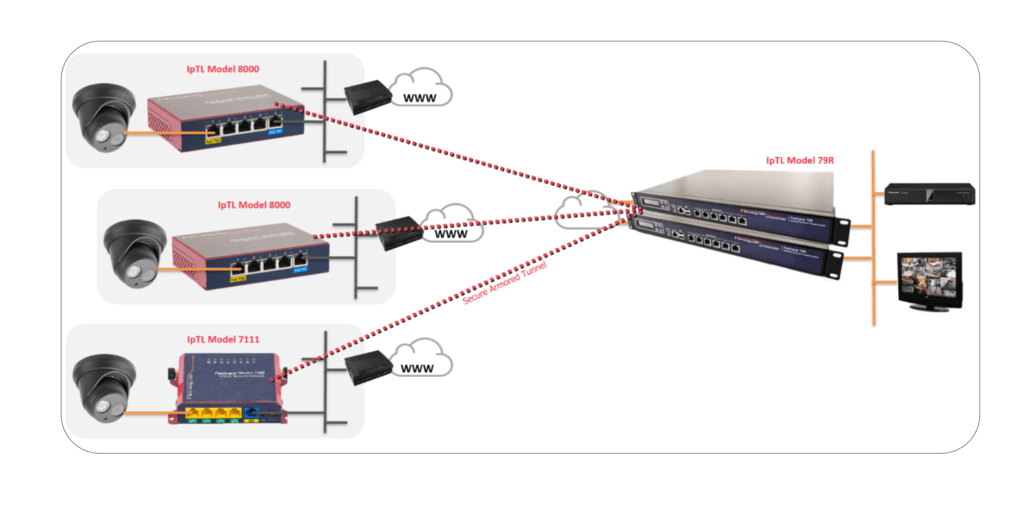 What do the IpTL Gateway Appliances Do?
The World's Longest Ethernet Cable™

Connecting your devices over a network has always been challenging. Routers, Network Addressing, and WAN links make even the simplest connections difficult and expensive. Most VPNs focus on security rather than connectivity. This means establishing a site-2-site link requires expensive infrastructure and difficult configurations.
A VPN or Tunnel on its own lacks the tools needed for integration, simplicity, and reliability. But, creating a tunnel from a remote network device back to your headend can be easy and seamless.
IpTL has created and integrated technologies to ensure an easy, seamless, stable, and secure link. And we do it without using an insecure Peer-2-Peer system: your data always goes between your devices.
We can connect a single Network Camera back to your headend or many cameras from multiple sites. Use any IP access – including dynamic/DHCP – or choose our integrated Cellular modem option for remote Internet.
Key points about IpTL for IP Camera Connections
Seamless End-to-End connectivity for IP Cameras over any IP network – including dynamic and private IP's
Dynamic IP ok!  No need for a static IP.
Plug-and-Play No-Configure Point-to-Point links with our AutoConnect™
VLAN's over the Internet with Ethernet level networking
Reliably connect through firewalls/NATs
Full end-to-end Encryption with AES256
Not a P2P/Relay platform – all data is between your tunnels
No Recurring license Charges – All licenses Life-Time
Fully out-of-band manageable
Works with any Network Camera or CCTV vendor over Ethernet
How to Connect One or More Remote Cameras

Connecting a single CCTV IP or Network camera back to your headend can be easy. With the IpTL exclusive AutoConnect™ feature, it can be as straightforward as plugging in the appliances.
As "The World's Longest Ethernet Cable," AutoConnect™ enables a secure plug-and-play Layer 2 LAN Extension without configuration. Even behind routers & NATs or on Dynamic IP links.
It is like extending a cable from your Ethernet switch to your remote site.  And because it is L2/Ethernet-based, it enables devices that only work on the same LAN to operate without issue.
With AutoConnect™, it is as easy as plugging in your Ethernet and powering up!
Click here to see more about AutoConnect™.

For the remote IpTL appliance, connect the uplink port (blue) to the LAN switch or directly to the Internet router. The IpTL appliance can be installed behind an existing NAT, Firewall, or router with a DHCP private address. No port forward or configuration is required.
The uplink port will DHCP and begin to create a link. If using AutoConnect™, the appliances will work to establish a direct connection through your existing router/NAT.
The IP Network Camera is connected to one of the local ports (yellow) on the IpTL appliance. The local ports will be transparently connected to the headend LAN once the tunnel is established.
On the Headend central site, all that is required is a single Ethernet on the local port.
Because you are extending the headend LAN all the networking will be the same for the remote site.  When your IP camera DHCP's for an address, the response will come from your headend LAN and operate just like it is sitting on your headend network.
As it is L2/Ethernet, all broadcast and multicast to and from the IP Camera will work properly.
You can access the camera just like you would if it was installed on the local LAN.  All ONVIF, RTSP, HTTPS, and all camera ports will work transparently.
Separated Video Networks
Sometimes it is desirable to keep the camera networks completely isolated from the operational LAN.
It is easy to extend and isolate while preserving the networking end-to-end.
Just like a long Ethernet Cable, the headend network and remote networks are connected while sharing the existing Internet access.
Connecting Multiple Cameras
Connecting multiple Network Cameras from a remote site is no different than connecting a single camera.  The IpTL appliances can support as many cameras as the bandwidth will allow.
You can connect cameras to available local ports directly on the appliance or just connect a single port from the IpTL appliance to an existing Ethernet switch.
If your network cams are on a VLAN network, we can connect to the LAN switch on the same VLAN.  If needed, we can change, remove, or trunk your VLAN.
In all cases, the network cameras will be on the same LAN and be fully accessible as if they were at the headend LAN.

How to Connect IP Cameras at Multiple Sites

Connecting Multiple Sites
Connecting multiple remote sites is straightforward. To establish a tunnel, each remote appliance is simply configured with the IP, FQDN name, or the MAC address of the headend appliance.
When a remote appliance is powered on it will continuously attempt to connect to the headend. The remotes do not require any port forward rules and can be installed behind a router, NAT, or firewall.
The headend appliance will terminate all the remotes appliances.
The headend can support either Bridged/L2 or Routed/L3 connections.  If bridged, the LAN will be extended to all sites and the networking shared.  If routed, then each site will have its own IP network range.
Using the client-to-client setting on the headend appliance, all remote sites can be either blocked from direct communication, called hair-pinning, or allowed to communicate directly with each other.
To enhance security, the Tunnel Auth feature can be set with a user passphrase.  Once set, all the appliances will be in a closed user group preventing outside connections from any device.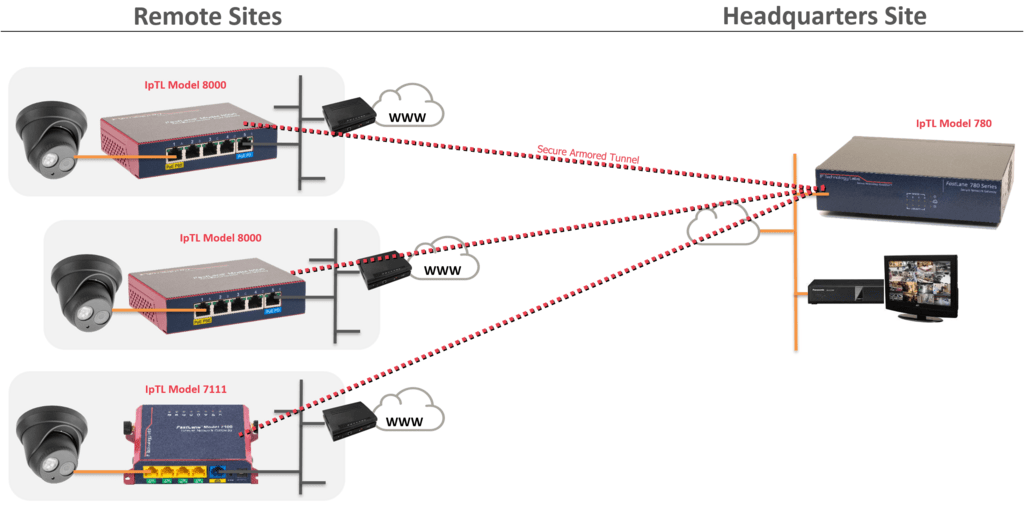 To make a tunnel, each remote will be configured with the IP, Name, or simply the MAC address of the headend appliance under the Tunnel Options page.
Here is an example entry on a remote appliance:
IpTL's appliances enable you to use Dynamic IP Internet services at both the remote and the headend.  IpTL's patented RealTimeResource™ feature automatically resolves the current headend IP address with DNS.
If the tunnel is Ethernet/L2, then the Local Port at the remote and the headend will be connected.  If the tunnel is Routed/L3, the headend appliance will automatically push all the routes to each remote appliance.
If Routed/L3 operation is used and the remote appliance is in a stub installation, then it may be necessary to configure the remote router to send traffic to the IpTL appliance as the next hop for its networks.
How to Connect using Internet
How to Connect Using Generic Internet
Remote Site Behind a NAT/Firewall
In-line with Router
IpTL appliances can be installed behind a NAT router or firewall as well as on Dynamic IP links.  One installation option is In-Line, where the IpTL appliance is used as the router for the remote network.
The appliance supports DHCP server, DNS, VLAN, Virtual Routers, ACL firewall, as well as full next-hop route control.  Any tunnel created will be able to connect to the local LAN for secure access back to the headend.  Connections can be set for Split-Tunnel or Compulsory-Tunnel to ensure the remote data goes where you want it.
In-line can be Bridged/L2 for smaller sites or Routed/L3 for larger scalable installations.
Remote Site Behind a NAT/Firewall
Stub
IpTL appliances can be installed as a stub host on the network.  This type of installation is often used when it is desired to isolate devices from the local LAN while connected to the headed via a remote access tunnel.
This type of operation can be used with Ethernet/L2 or Routed/L3 connections.  If there is a desire for hosts on the local LAN to communicate to the headend through a tunnel, then it may be required to configure a next-hop routing rule in the default router.
Alternatively, IpTL's patent-pending IPShare™ can be used to create a local LAN interface on the tunnel.
HeadEnd Behind a NAT/Firewall
An appliance can be installed as a server behind a NAT router and on a Dynamic IP link.  The headend appliance listens for incoming tunnel connections and will authenticate valid remote sites.
When installed behind a NAT, it will be necessary to configure the upstream router with a single port-forward statement to send inbound traffic to the IpTL appliance.  All remote connections will use this port forward.
HeadEnd Directly Connected to the Internet
An appliance configured as a server can also be directly attached to the Internet with either a static or dynamic IP.  In such cases, there is no requirement for a port-forward rule as all incoming connections will be direct to the appliance.
As every IpTL appliance is a router/NAT/firewall, all non-tunnel external connections can be blocked, and only legitimate IpTL remote appliances can connect.
How to Connect using Cellular
How to Connect Using Cellular LTE
Cellular/LTE Modem for Remote Internet
Many times a remote site will not have Internet service available.  For those remotes, IpTL offers the Model 7004 (Verizon certified & T-Mobile Certified) and the Model 7151 (International/Global) appliances with built-in Cellular/LTE modems.
The modem takes a standard SIM card for data service and will receive a private and dynamic address from the carrier network.   Once powered up and attached to the Cellular network, the IpTL remote appliance will continuously and automatically connect to the headend just like it was on a wired Internet.
Once the tunnel is established, direct communications are available to the remote network.  This supports both Ethernet/L2 and Route/L3 type network architecture.
Cellular/LTE as On-Demand Failover/Redundancy
When a link up-time is critical, the IpTL Cellular/LTE appliance can be used as an on-demand failover to the local Internet access. Using our SystemMonitor™ feature, it is possible to have fast and responsive link protection.
SystemMonitor™ supports:
Supports Active/Active, Active/Standby, and Active/Hot-Standby failure-ready operation
Highly Configurable Down-Time monitors, with configurable hysteresis that goes way beyond a simple PING
Triggered networking actions to ensure your network runs the same in any failure
See the Magic for Yourself with our Free Trial Demo
Sometimes you just need to see it for yourself.  We've setup a program to do just that.  Click the Try Now if you want to see the magic of IpTL absolutely reliable networking!