IpTL Model 7111 Secure Network Gateway with Ethernet, Wi-Fi, & Armored Tunnel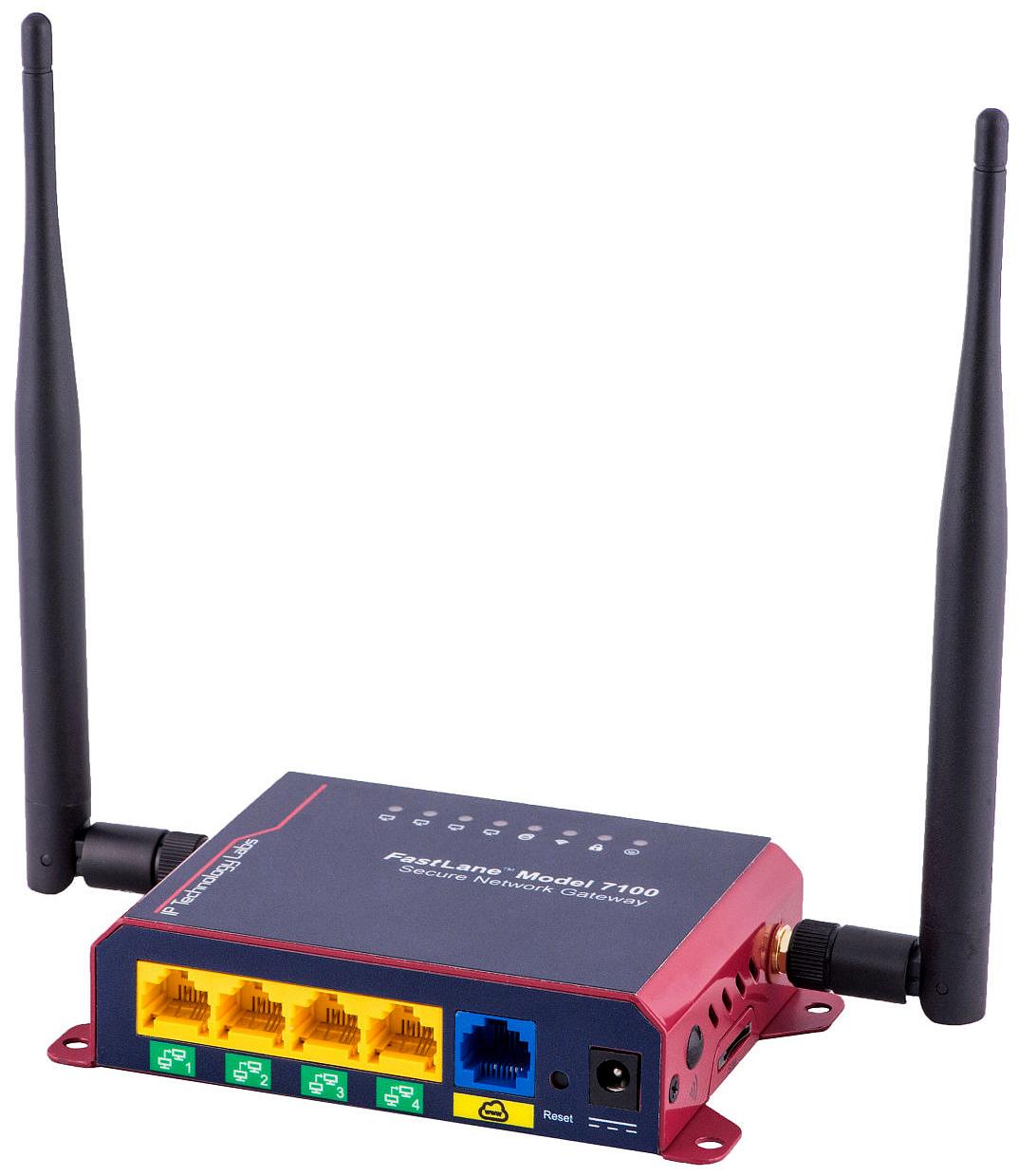 Connect and Secure your Network with Low-Cost High-Performance Connectivity and device-level Trust & Control
The IpTL FastLane 7111 provides wired Fast-Ethernet and wireless 802.11 b/g/n with always-on secure remote access VPN, which works with dynamic IP, dynamic failover, and SuperNAC™ zero-trust IoT access control. Perfect for remote devices such as IP Cameras, Access Control, and Alarm Panels, the Model 7100 Series provides the connectivity, full routing, and full redundancy/high-availability and device-level security in an integrated and fully managed package.
IpTL FastLane products are designed for access connectivity and include all the expected networking features ensuring success to your project, including outing/forwarding, VLANs, and stateful inspection firewall. For redundancy and failover applications, the Model 7100 Series can connect to multiple networks and provide active/active failover as well as link-bonding over multiple Internet services.  IpTL's exclusive SuperNAC™ provides control over your devices, preventing unauthorized access to your network and ensures you know your device is really the device you think it is.
Use in pairs for site-2-site Ethernet LAN Extension or with one of our servers for larger Point-to-Multipoint deployments.
IoT & M2M Connectivity, Security, & Cloud Trunking

WAN Failover & Restore Access Link Protection

IP Camera Remote Access VPN and Security

Access Control, IO,  Intelligent Readers & Network-based Controllers

Building Automation Systems HVAC Maintenance, monitoring & control

Digital Signage Connectivity

Mobile – Taxis, Light Transport Vehicles

ATMs, Kiosks, Point of Sale systems, & Lottery machines
Connect and Extend any Ethernet device over any Dynamic IP Internet with full security 

Trunk your IoT or M2M devices to your headend applications seamlessly with security and control end-to-end so that your data flows between your devices and applications

Wi-Fi can be an Access Point and a Client simultaneously and 

connects all your devices to both the LAN and the Tunnel so you don't need extra gear to purchase, configure, & manage

MPLS or Lease-line redundancy over Internet with Active/Active redundancy keeping your links up and running and your data flowing without worrying about which path is active

Load-Balance and Link Aggregation supporting up to 64 independent network connections providing true reliable connectivity so you can get the reliability 

and throughput your applications demand 
Ethernet Extender over Internet – Simple Site-2-Site Connectivity
IpTL appliances can be used in point-to-point applications for simple Site-2-Site VPNs.  Our appliances can transparently extend your LAN from your central location to a remote site.  In this case, we look like "The World's Longest Ethernet Cable™" and your remote devices look and operate "like they are sitting on the LAN."
Your broadcast, multicast, IPv4, IPv6, UPNP, mDNS are all preserved.  Also, we can connect your non-IP based network devices — including VLANs, VLAN trunking (e.g. ISL), Modbus-TCP, Profinet/Profibus, CANbus, etc.
Our Patented AutoConnect™ can be used to create this link without requiring ANY configuration of the NAT routers or firewall and will work with Dynamic-IP provider-dhcp addresses on both ends of the link. Wrapped in the latest security, IpTL keeps your good data protected in transit, hides access to your IoT gateway and applications, and keeps the bad guys out.
VOIP Extension, Connectivity, & Security
Connect your remote VoIP and UC devices to your central IP-PBX switch without any networking blocks.   Operating at L2/Ethernet IpTL "hides" the underlying network – including those that block you like NATs, Dynamic IP, Firewalls, Filters, & Proxys – to give your signalling and media a secure and transparent end-to-end link.  VOIP phones can DHCP (with their options) from the remote and even use VLAN across the WAN.
Industrial IoT and M2M Trunking and Backhaul
Access control terminals, devices, and cameras are all now network aware.  They are all designed for local installation and work great on the LAN.  But how do you truly network these devices to your centralized monitoring, accounting, and analytics?
IpTL's appliances make easy work connecting your IoT and M2M devices to your remote headquarters or Cloud based applications.  IpTL's Trunking gives all your IoT gateways & controllers a transparent LAN pipe end-to-end so your applications can communicate without modification.
Wrapped in the latest security, IpTL keeps your good data protected in transit, hides access to your IoT gateway and applications, and keeps the bad guys out.