IpTL Model 7004 Cellular Secure Remote Gateway Router with Verizon LTE Internet, VPN Router, & Integrated Failover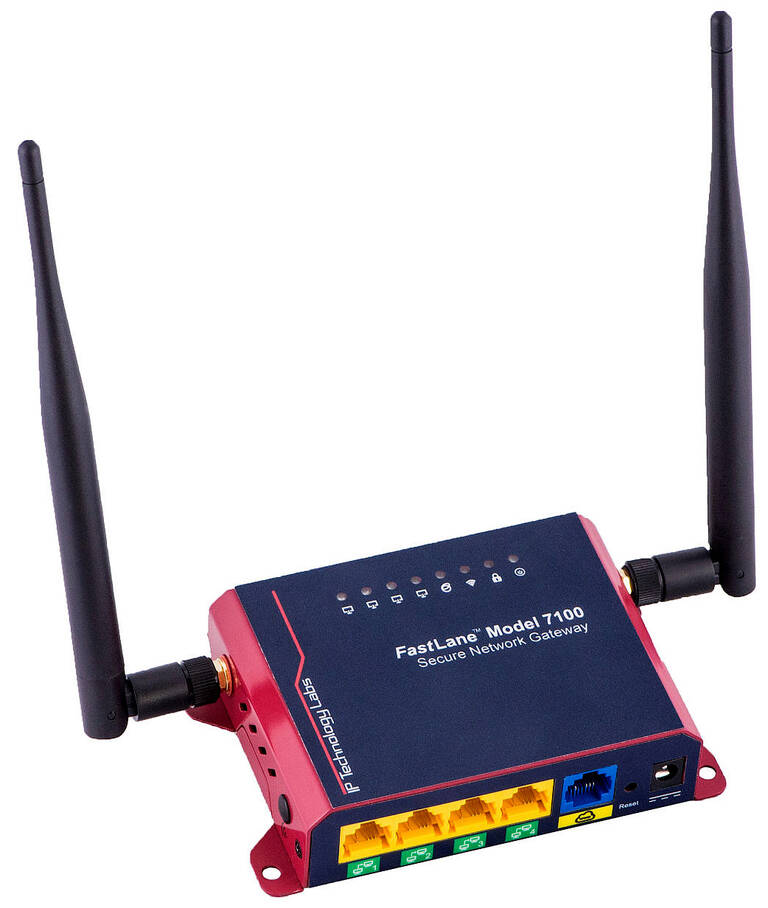 Semi-Ruggedized Cellular Access Router with LTE Internet Access, VPN Routing, & Integrated WAN Failover – Verizon & T-Mobile Certified.
IpTL FastLane™ appliances are designed for always-up reliable secure access connectivity for IoT/M2M, Automatic WAN Failover & Restore, & remote branch connectivity.
The Model 7004 includes all the expected networking features ensuring success to your project including dynamic circuit protection, routing/forwarding, VLANs, and statefull inspection firewall.
Use as an IoT Trunking Gateway securing your data to the Cloud or the Ethernet interfaces for reliable always-on secure access to all your network resources.
IoT & M2M Connectivity, Security, & Cloud Trunking

WAN Failover & Restore Access Link Protection

IP Camera Remote Access VPN and Security

Access Control, IO,  Intelligent Readers & Network-based Controllers

Building Automation Systems HVAC Maintenance, monitoring & control

Digital Signage Connectivity

Mobile – Taxis, Light Transport Vehicles

ATMs, Kiosks, Point of Sale systems, & Lottery machines

Private APN
Cellular LTE Modem with Integrated Security and Management – Connect, Access, and Secure over the LTE data network

Trunk your IoT or M2M devices to your headend applications seamlessly with security and control end-to-end so that your data flows between your devices and applications

Dual Cellular, Wi-Fi, & Ethernet operation 

connects all your devices to both the LAN and the Tunnel so you don't need extra gear to purchase, configure, & manage

MPLS or Lease-line redundancy over Internet with Active/Active redundancy keeping your links up and running and your data flowing without worrying about which path is active

Load-Balance and Link Aggregation supporting up to 64 independent network connections providing true reliable connectivity so you can get the reliability 

and throughput your applications demand 
Best WAN Failover with SystemMonitor™
Video showing a live demo of IpTL's fastest and reliable WAN failover & restore capabilities with its patent-pending SystemMonitor™ switching feature – all with full security and no network flapping or changes.  No one does it better, faster, or more reliably than IpTL.
IoT Trunking over LTE Cellular – SmartMeter Application
SmartMeters and sensors provide quick, accurate, and real-time control of fielded devices without having to manually go-to the "meter".  But how to you get that data back to your applications? As critical infrastructure low-power sensors don't have the security to protect against today's persistent threats.
IpTL IoT Trunking gives your IoT gateways & controllers a transparent LAN pipe over Cellular and/or Wired Internet so your applications can communicate without modification.  Wrapped in the latest security, IpTL keeps your good data protected in transit, hides access to your IoT gateway and applications, and keeps the bad guys out.
Access Control Integration with LTE Cellular Failover
Connect your remote Access Control readers and IoT/M2M terminals to your controller without the headaches of a traditional VPN router.  With IpTL you can connect without any networking blocks or having to configure remote routers at your customer site.   Operating at L2/Ethernet IpTL "hides" the underlying network – including those that block you like NATs, Dynamic IP, Firewalls, Filters, & Proxys – to give your system a secure and transparent end-to-end link.